Reporting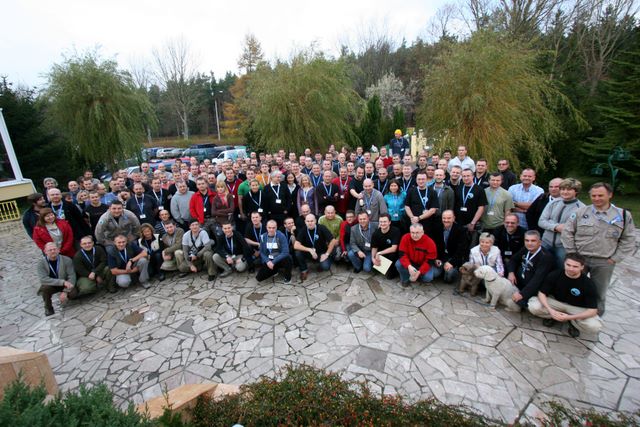 The idea of the Tricity Technical Conference sprang up during our last visit in Czech Republic, where we took part in the conference organized by Czech and Slovak divers.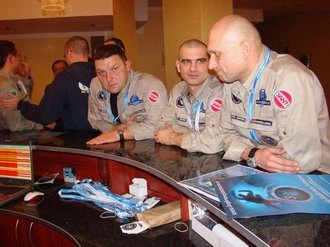 Wracając z Pragi pomyśleliśmy, czemu nie my i czemu nie u nas? Czy my nie mamy, czym się chwalić? Czy nie możemy się zorganizować i zaprosić kilka osób, aby podzieliły się z nami swoją wiedzą i doświadczeniem? Organizację zaczęliśmy już w marcu. Mówiliśmy, że do listopada dużo czasu, ale jak zawsze okazało się, że czasu było mało a końcówka przygotowań wyjątkowo nerwowa. Do organizacji 3KT zaprosiliśmy trójmiejskie środowiska nurkowe, które chciały nas wspomóc i tak w gronie organizatorów znaleźli się Wojtek Jechna, Łukasz Piórewicz, Sebastian Popek, Tomek Stachura, Marek Szcześniak i Krzysiek Wnorowski.
We knew from beginning, that it was going to be tough. First of all we did not have any experience in organizing such events, and the variety of planned presentations and invited people, representing different professions brought additional problems. We chose the place and it was one of the resorts in Jastrzebia Gora. It guaranteed us the suitable standard of board and lodging. The deadline - November 23rd - had been approaching unrelentingly. We were wondering, what could go wrong, where we could fail. Two days before arrival unfortunately it turned out that Mattias Pfitzer, who was to present rebreathers, had a car incident and cancelled his arrival with sorrow. First guests were coming on Friday evening.
Bad weather and terrible conditions on the roads caused, that they were coming till …. 7 a.m. on Saturday. First presentations begun right after the breakfast.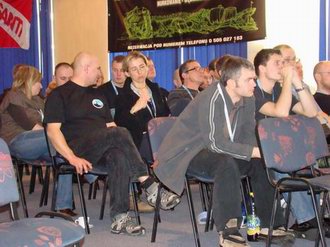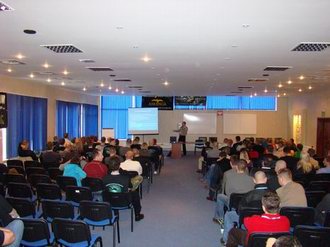 At the beginning Wojtek Kwidzynski presented us possibilities of technical divers' insurances.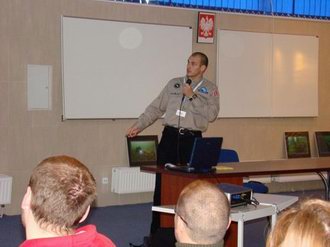 Then Mariusz Ozga introduced us how to gain and maintain suitable shape in his presentation "Diet and Fitness in diving technical". Refering to his own experience (it is proper to mark that Mariusz regularly takes part in marathons) he shared his knowledge about his exercising and diet, which help to be suitably prepared to technical diving.

During the break between presentations all the participants could see the equipment and new solutions designed for diving presented by invited companies and distributors.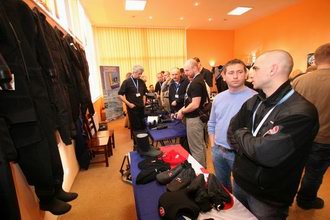 There were the under-water scooters, different kinds of heating and lighting equipment and also many interesting solutions. After the break Radek Husak had his presentation about cave diving.

Except interesting tales about the Czech group exploring discovered by them caves of Yukatan (we had to admit, that spending a month in a jungle is quite an achievement) Radek showed us his photos.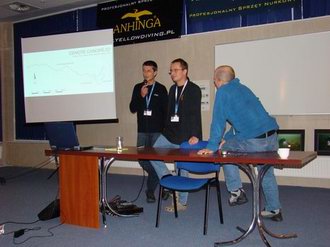 Then we had a presentation about dioxide of carbon in diving by dr Jacek Kot. It was probably the the best presentation of the whole conference. Dr Kot introduced his difficult but very interesting subject in an accessible for everyone way and also with easiness and humour.

He was also answering all the questions. This presentation, as it turned out later, showed many divers what can happen under water and how to avoid it.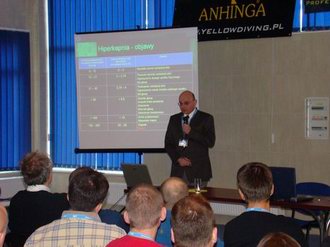 Our special guest was Richard Lundgren - one of the most esteemed in the world instructors and wreck divers. He brought with him presentations about two different projects different in difficulty, however connected by history.

The first part of his presentation concerned the German destroyer Erich Giesse. Richard, with inborn sense of humour and the ability of sharing his experience, showed us the arrangements and diving on this wreck. The second part was about the project connected with wreck diving on the Polish destroyer Grom.
He had many nice thongs to say about Polish navy and mariners.
At the end he showed us films from both divings. The last event on Saturday part of the conference was demonstration of Sławek Packo's films from caves of Florida with professional narration of Robert Kleina and Sławek.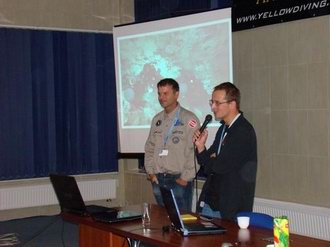 Although Robert underlined, that this was just the tourism, however diving in a cave over 80 m deep is not "a piece of cake" : -)

The integration evening after Saturday presentations lasted, like on Friday, till early morning hours. We had two lectures prepared for Sunday.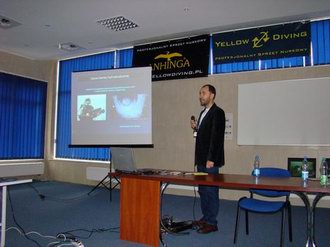 The first was kmdr Darek Grabiec, who told us not only about diving, but also about how it happens, that we still discover new wrecks. His presentation about the hydroacustic devices and ways of their use for under-water searches caused great interest.

Fantastic sonar pictures of Gustloff and Goja were for us a great experience. However the biggest thing was the show of the hydroacustic pictures of the lately discovered submarine wreck.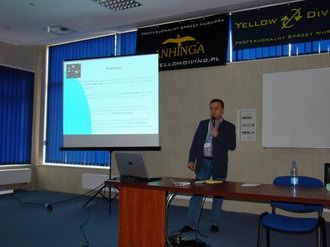 The last part of the conference was the presentation by dr Krzyzak about decompression. We could learn about the history of today's knowledge about things that are going on in our organism during diving.

After that all we had to do was only to return to our homes. For some of us it meant lasted several hours. To sum up: there were 170 participants on the conference, 11 companies and distributors of the diver's equipment introduced their products. Is this a lot of or little?


I think, everyone should answer this question themselves.
I would like to thank all the participants for coming and creating such fantastic atmosphere, all the companies and equipment distributors for sharing with us their innovations and showed us so mach fantastic equipment, all the invited guests for their time and effort in preparation of their presentations and that they were with us.
I also would like to thank Robert Kleina for translating both from Czech and English - we could count on you as always. Was it worth it?
I am sure it was. Despite problems and tiredness, I think wa all are happy, that we did it, that we could meet so many fantastic people.
I hope, that we will meet again the next year, maybe even in the larger number.
Gallery:
Photos: Jacek Madejski, Tom Stachura.